Our experienced staff is committed to nothing short of excellence.

We are proud members of the professional beauty industry, continually looking for ways to better our skills and learn new techniques. When you visit us, our friendly, helpful staff will answer your questions and make suggestions on how to best serve you.
Pamela Deso Murray
Owner
Owning her own businesses in the past and being a public speaker for four years gave Pamela reason to be a frequent salon customer. When she heard that her stylist of many years along with 6 others were unhappy and were planning to leave their current salon at the end of the year, she panicked and asked where would they go. They didn't have an answer so Pamela asked "what would it take to open a salon...." She attended business classes at the Orlando Hair Show in June, 2013 and came back excited and ready to get to work to give this awesome team a new home. Along with her business knowledge and love for people and the beach she created a fun, relaxed beachy environment for her incredible team and awesome clientele. Pamela brings her bright and sunny disposition to the salon each day. She has always loved working in "people environments" and truly enjoys managing the salon's operations with her incredible attention to detail and true concern for everyone. Pamela works hard to help each of the salon's clients feel unique, uplifted and pampered. She loves to have fun and enjoys getting to know her clients. 
Louise Carr
Salon Manager
Meet Louise Carr!
Louise has been part of the Beach Team since 2019.
Being in the customer service industry for 20+ years, Louise knows how to make our guests feel welcome and appreciated.
She is always positive, smiling and very kind.
Louise's professionalism, efficiency and exceptional customer service qualities are one of the many reasons that she is our amazing Salon Manager.
Sophie Carr
Digital Marketing Manager
Sophie joined our team in 2018 as the Front Desk Manager, and took on the role of Digital Marketing Director after getting her Bachelors Degree in Digital Marketing. She now manages all of our social media accounts and creates content for all of our followers!
Sara Biondo
Master Stylist
As one of our original Beach Team members, Sara is a Master Stylist and former Paul Mitchell Educator in the industry since 1998. Her skills include advanced hair cutting and coloring, designer coloring, (balayage/ombre) and formal up-do's. She is also certified in Keratin Complex as well as tape-in hair extensions. Each client receives a thorough consultation to insure an amazing guest experience. Sara's training and experience has allowed her to become a mentor/teacher within our Associate Training Program producing successful top stylists. She believes in creating a comfortable yet professional relationship with her salon guests.
Staci Notaro
Master Stylist 
Staci is our southern belle from North Carolina. She is a licensed cosmetologist since 2010 and loves nothing more than her customers leaving with fabulous hair and a smile. Staci specializes in short haircuts but has an extensive knowledge of all hair types, cuts and styles.  Her skills include precision hair cutting for men and women, dimensional color, highlighting, smoothing treatments, styling and tape-in hair extensions. Staci enjoys listening to each of her customers hair needs, strives for life long relationships and loves being apart of such a wonderful team of stylists.
Alexa Dufek
Stylist and Eyelash Specialist
Born and raised here is South Florida, Alexa Dufek became a licensed cosmetologist in 2015 and has quickly developed a devout following for her talents in creating wavy, lustrous styles in every length. The undisputed queen of trendy color—from balayage and ombre to color melts—Alexa has earned the trust of her growing clientele to mix up stunning, customized shades. Her expertise also includes her signature look—long, luminous beach waves. Keeping up with the current trends while maintaining her level of mastery, Alexa is constantly building skills and enhancing her level of knowledge. Alexa loves her craft!  Skilled in eyelash extensions, Alexa's quick wit and easy-going nature immediately put her customers at ease, and make her a invaluable addition to the Beauty and the Beach staff.
Sheila Apicella
Stylist
Sheila joined our team in 2016. She's experienced in many different kinds of braiding, tape-in extensions, formal updos, balayage/color services, smooth blowouts, and effortless beachy waves everyone is looking to achieve. She loves to continue her education, which includes attending regular training classes to keep up with the latest trends. Sheila enjoys the opportunity to meet new guests and apply her education and the love of this profession to give each person an enjoyable and satisfying salon experience. She strives to help everyone achieve their beauty goals and provides them with a personalized beauty regimen so they can recreate their salon look at home!
Sarah Brens
Stylist
Sarah has been part of the Beauty and the Beach Salon Team since 2015.  Originally from the Dominican Republic, she specializes in thick hair and offers incredible smooth blowouts. She brings her skills to the table with undivided attention which include beautiful formal updos, all color services, smoothing treatments and tape-in extensions.  Her goal is to ensure that every guest leaves her chair with confidence and a smile. Sarah continues to attend advanced classes to bring the latest technology to her guests at her new found home. 
Brielle Stafford
Stylist  
Bri has been a part of The Beach Team since 2018. After graduating from Cosmetology school, she completed  our Advanced Associate Program and is one our upcoming amazing hairstylists. Bri is always a team player and you will see her helping all throughout the salon from receptionist, to assisting her fellow  stylists, to behind the chair with her own clients. Bri is wherever she is needed. She enjoys braiding and formal updos for weddings, prom and other special occasions. Bri's skills also include, excellent grey coverage, dimensional color, haircutting and styling.  Bri looks forward to meeting new guests and creating their new looks.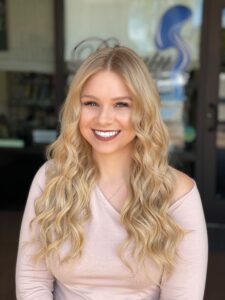 Kristy Boyd
Stylist
Kristy joined our team in 2019. After graduating from the Aveda Institute, she completed our Advanced Associate.  In her first year as a stylist, Kristy was promoted to a level 3 stylist and continues to excel in all aspects of her career.  Kristy always has a smile and positive attitude and she uses her creative skills to offer the latest trends.  She specializes in highlights, balayage, and blonding services.  Certified in Tape- Kristy also continues to take advanced classes to further her craft.
Denise (Shimi) Lanier
 Nail Technician 
As one of our original Beach Team members, Denise is a nail and waxing specialist. She has been a licensed technician since 1998, starting her professional career here in Cooper City. Denise specializes in manicures, pedicures, gelac polish and waxing. She believes in making her clients feel relaxed and comfortable while here at Beauty and the Beach Salon. Come in and see Shimi for a unique and pleasant experience.